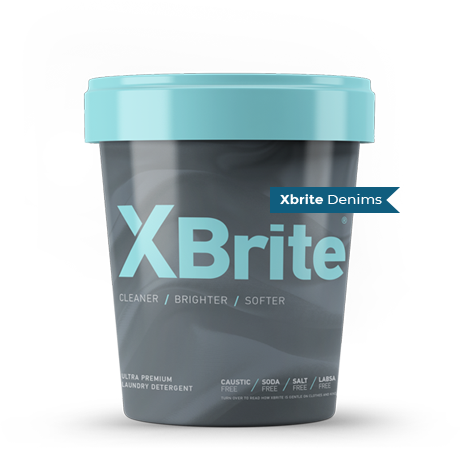 PRODUCTS /
XBrite Denims
XBrite Denims makes your denims look as sharp as you.
NET QUANTITY: 500GMS
'Free Delivery' pan India
Product Benefits
Cleans one week's dirt in one wash.
Retains dual-tone hues of blue and white.
Maintains washed and faded effects
Keeps denims feeling comfortable.
Reviews
Jinita Oswal
Amazon.in Customer

The best detergent for denims. Smells good, clears stains, leaves the fabric soft, and colours are intact after use.

Arbaz Khan
Amazon.in Customer

Impressive detergent to make jeans brighter and odour-proof.

Vivek
Amazon.in Customer

My denims like this detergent. It works really well, washes perfectly and smells really good.
FAQs
Will XBrite Denims prevent my dark blue jeans from fading?

Jeans, or blue denims, are essentially made out of indigo-dyed fabric. The very basic character of Indigo is to fade gradually. However, due to the presence of harmful substances like soda ash and caustic soda in ordinary detergents, denims tend to fade faster than they should. Because XBrite is free of both these harmful chemicals, it does not pull out the colour of denims like other detergents. Moreover it enhances the salt- and-pepper character of jeans and the overall brilliance of the fabric, ensuring your blue denims stay blue for as long as naturally possible.

Can this product be used for raw sanforized and unsanforized denims?

Yes, XBrite works equally well on both types of denims.

Are there any usage instructions for the product?

Because XBrite is a unique and powerful laundry detergent, one needs to use much less of it than ordinary detergents. You may use 20-25gm of XBrite powder for a laundry load of 4kg, and 40-50gm of XBrite powder for a laundry load of 8kgs.

What are the ingredients of the product and why aren't they listed on the pack?

XBrite is manufactured using only eco-friendly and biodegradable substances and is certified under Global Organic Textile Standards (GOTS-EU). Its ingredients cannot be listed because it is a proprietary formulation under the process of seeking a patent.

What is the pack size of the product?

XBrite comes in a 500gm container measuring 120cmx120cmx150cm.