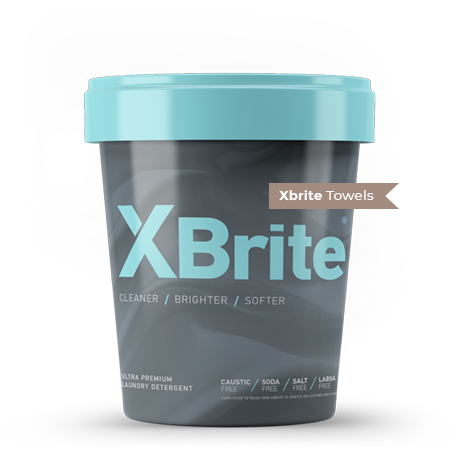 PRODUCTS /
XBrite Towels
Gives your towels the fluffy fresh touch
NET QUANTITY: 500GMS
'Free Delivery' pan India
Product Benefits
Removes foul odour and keeps towels fresh as new.
Eliminates body-fat deposits that other detergents don't.
Destroys germs and restores hygiene.
Reviews
Jyoti
Amazon.in Customer

Towels come out with fragrance, clean and soft.

RM
Amazon.in Customer

Really good for white towels and white clothes.
FAQs
How is XBrite Towels different from other detergents?

XBrite Towels has a number of advantages over other detergents that are used to wash towels. • It is a powerful, low foam, machine-wash laundry detergent specially formulated for all types of towels • It kills bacteria effectively and promotes hygiene • It is eco-friendly and leaves zero residue on towels • It prevents foul smell in towels and napkins • It extends towel life and softness

Can this product be used for baby cloth diapers?

. Yes, XBrite is the most efficient and safest product to be used for baby cloth diapers as it also disinfects along with cleaning. (It does not contain sodium hypochloride?)

What are the ingredients of the product and why aren't they listed on the pack?

XBrite is manufactured using only eco-friendly and biodegradable substances and is certified under Global Organic Textile Standards (GOTS-EU). Its ingredients cannot be listed because it is a proprietary formulation under the process of seeking a patent.

What is the pack size of the product?

XBrite comes in a 500gm container measuring 120cmx120cmx150cm.

Are there any usage instructions for the product?

Because XBrite is a unique and powerful laundry detergent, one needs to use much less of it than ordinary detergents. You may use 20-25gm of XBrite powder for a laundry load of 4kg, and 40-50gm of XBrite powder for a laundry load of 8kgs.