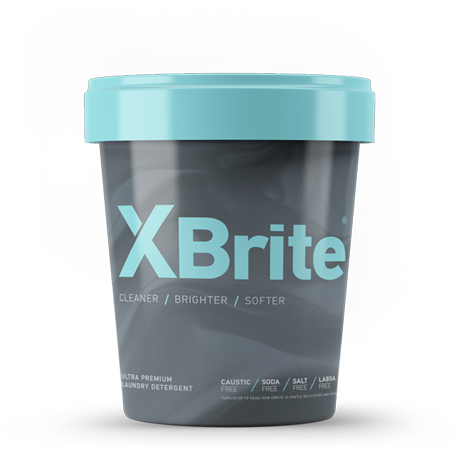 PRODUCTS /
XBrite
XBrite is a next-generation premium laundry detergent offering intelligent, sophisticated care for every fabric.
NET QUANTITY: 500GMS
'Free Delivery' pan India
Product Benefits
Cleans all varieties of clothes flawlessly.
Transforms whites into sparkling whites.
Lends a subtle gloss to colored clothes.
Retains the vibrance of new clothes.
Reviews
Kavita Dayani
Amazon.in Customer

Very good, both for washing machine as well as for bucket-wash.

Saurabh Sarangi
Amazon.in Customer

Its powder form feels so good when you handwash your expensive clothes.

Omair Nasir
Amazon.in Customer

Cleansing action is great. Stains, oil and grease marks go easily.

Sonia
Amazon.in Customer

It removes tough stains easily and quickly. Clothes look just like new.

Anuj Rastogi
Amazon.in Customer

Keeps clothes clean and soft. Colours don't run like in the case of other detergents.

Tripti Prem
Amazon.in Customer

It leaves the clothes clean, smooth and with a subtle musky scent that I love.

Amazon.in Customer
-

The softness after washing with this detergent is admirable.

Mrinal Kumar
Amazon.in Customer

I love wearing whites and this is just a perfect product for anything that is white.

Amazon Customer
-

White clothes come out shining bright.

Shivalingappa Basawanal
Amazon.in Customer

Loved it especially after knowing that it is environment friendly and does not harm the marine ecosystem.

Nidhi C
Amazon.in Customer

Works well even in hard water as it's organic.

Archana Gupta
Amazon.in Customer

So effective, the quantity required is very less versus other detergents.

Sajju
Amazon.in Customer

Very cost effective if we see the per-cloth washing cost.

Mitesh
Amazon.in Customer

If you think it's costly, believe me it's worth it. You won't regret using it.
FAQs
What are the ingredients of the product and why aren't they listed on the pack?

XBrite is manufactured using only eco-friendly and biodegradable substances and is certified under Global Organic Textile Standards (GOTS-EU). Its ingredients cannot be listed because it is a proprietary formulation under the process of seeking a patent.

What is the pack size of the product?

XBrite comes in a 500gm container measuring 120cmx120cmx150cm.

Can it remove colours that may bleed on to other clothes while washing?

Yes, to a large extent, XBrite will remove this bled colour. However, the removal depends on the strength of the bleeding effect. In some cases it may take one or more washes for entire removal.

Are there any usage instructions for the product?

Because XBrite is a unique and powerful laundry detergent, one needs to use much less of it than ordinary detergents. You may use 20-25gm of XBrite powder for a laundry load of 4kg, and 40-50gm of XBrite powder for a laundry load of 8kgs.

Can it be used in front-load machines without the danger of rust?

Yes. XBrite can be used in every kind of machine and does not cause rust or any other corrosion.

Can it be used to wash baby clothes?

Yes, XBrite is great for baby clothes as it is free of harmful substances. In particular, the XBrite Junior variant is especially designed to be soft on delicate skin and also keeps baby clothes clean, sanitized and safe.

Is this product cruelty-free?

Yes, it is absolutely cruelty-free. XBrite is the only detergent in its class that has been certified by the most reputable international bodies for sustainability in textiles, i.e. Global Organic Textiles Standard (GOTS program) and Zero Discharge of Hazardous Chemicals (ZDHC). Further, XBrite contains only safe, green-tech, biodegradable ingredients without any harmful fillers and hence requires no animal testing.